Post by easttowest on Mar 5, 2013 21:31:10 GMT -5
Just wanted to write an account of my purchase from petflytrap. I have since made a bunch of orders from many different vendors but the firs plants I ever received from on online vendor were from petflytrap. I'm aware that this vendor has a very poor reputation among the online community and I wanted to share my experience. Overall I would rate it as not great at best. That being said both plants are alive and still in my care. Here it goes:
1. 3
2. The prices were fairly expensive considering the size of the plants upon arrival.
3. I ordered a d. spatulata and a n. ampullaria "herlequin". First of all the "large mature" d. spatulata was actually a clump of baby sundews. The species were correct but having since raised this species from seed I can confidently say that the largest specimen in the pot was a bigger seedling at best. It was the first rosetted sundew I had ever seen and I ***umed that they all just looked like a messy clump of leaves and dew until I got my second real adult drosera. I the searched the web and was very confused that mine didn't look anything like the photos on CP photofinder and such. The ampullaria was smaller than advertised and only one out of the three small leaves on the plant were still alive but even that one was browning at the edges. This was the first nepenthes I ever ordered online and it literally has just this week made any sign of growth. I received the plant almost 5 months ago. Every other nepenthes I have ever ordered (including another amp) has put out a bunch of growth within a few weeks at the most and has significantly grown in size (with the exception of muluensis x lowii which is to be expected) since they came. I'm not sure what he does to the plants/what condition they are kept in but this seems to be the general issue people have.
4. I notified the seller of the conditions of the plant and sent a photo. I was told that they were fine and would grow back. To a degree that was true but if I ever received a nepenthes now of the size and condition that the ampullaria was in, I would surely ask for a replacement.
5. The vendor took a long time to respond and told me that even if there was an issue the time to deal with it had p***ed. I have a feeling this "delay" was done on purpose. Although that is purely a speculation.
6. I would not buy from this vendor again. They have some plants that I can't fin anywhere else but I'd rather wait than be disappointed. This sounds harsh but given my experience and that of others it seems valid.
7. Sadly I feel like anyone who knows CP's well would not consider a second purchase given the status of his plants. His market seems to consist of people that are new to the hobby like I was since he advertises the fact that petflytrap "takes great pride in offering the most diverse online selection of quality carnivorous plants in the U.S." I've read many other reviews online as well as talked with people about their personal experiences and they all seem to be the same. I don't really understand how someone can't take this criticism and turn petflytrap into a better and more honest business. It can't be that hard to actually supply quality plants and exercise good communication.
8. First of all to improve the service of this business I would say that they need to have better communication with customers. Every time I sent an email, petflytrap took at least four days to a week to respond and after placing the order and being charged the plants didn't get to my place for almost three weeks!! Every single other place I have ordered from has shipped my plants within 3 to 4 days maximum and they have come on time. In my attempts to contact him in regards to the condition of the plants, he didn't respond for a week, in which time a new buyer (expecting good customer service) like me would be held responsible for the plants demise. Given the other experiences coupled with mine it sounds like the business strategy of petflytrap is to hook first time (oblivious) buyers into spending money on his plants that he must know no actual CP collector would every buy. It seems he is aware that his service is terrible and the way he deals with customers tells me that he expects not to be dealt with a second time. I really can't imagine how it would be rewarding or profitable to run a business like that. Some people might go as far as to call him a con artist but I'm going to stick with "bad business". I would not recommend buying from this vendor. In short: Plants were expensive for size, in terrible shape, obviously grown in bad conditions given the fact that they are mostly BE plants. Every other vendor that has supplied me with a BE plant has gotten them to me in great shape. Customer service was atrocious, and it took WAY too long for the plants to be shipped. And lastly every other vendor has gone above and beyond to make sure that I'm happy with a purchase and responded to my emails promptly with a polite (non entitled) attitude and made sure to ship the best plants they had. It is apparent that petflytrap.com is in it for the quick money and has little to no regard of the quality of plants he provides. I hope this isn't considered a bashing but more of a warning. I think I accurately depicted my experience.
Heres the amp 4 months later having put its first leaf out just in the past week or two: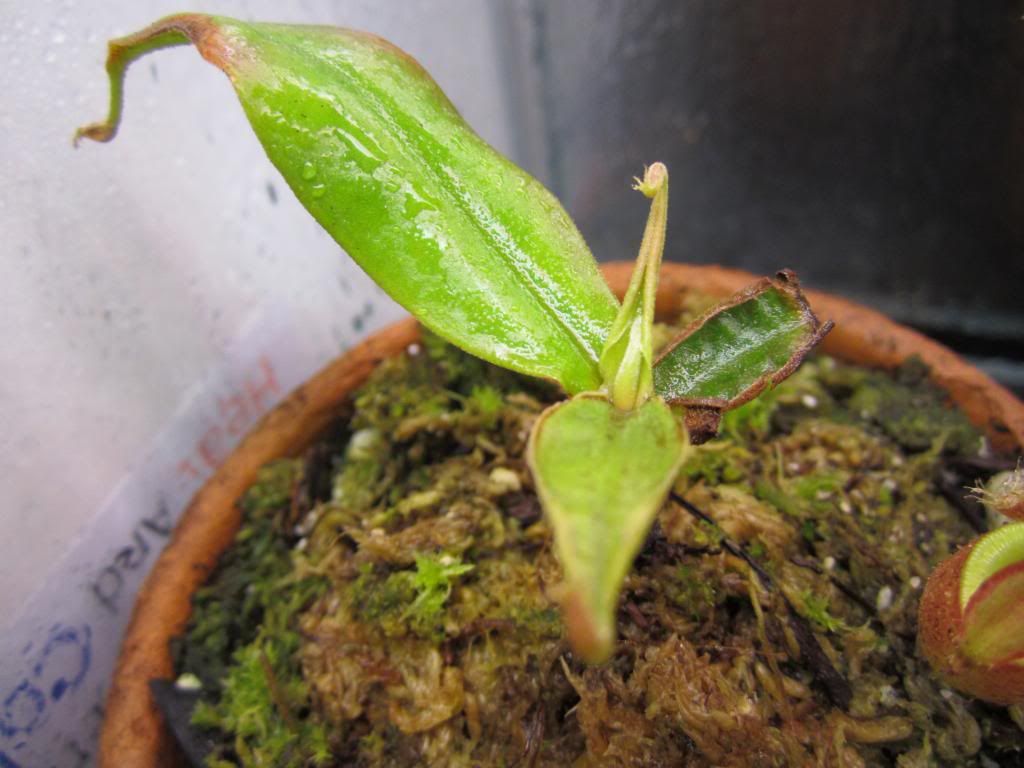 And heres the "large adult" d. spatulata in a 3" pot also 4 months after purchase: